In 2009,2010,2014,2015 Fox Performance was named as a sponsor and contracted to prepare all of the 1098R cranks used by Larry Pegram/Pegram Racing for his superbike motors for AMA American Superbike. Ben Fox also worked for Pegram Racing at the track and race shop for all AMA superbike races on Larry's team
Pegram Racing Sponsors<---click here


UPDATE: 12/9/14 Been super busy the last 3 years since I updated this. Keep it short and sweet. Since 2012 I've been working in AMA and WSBK in many roles. In AMA roadracing in the past several years I was working as Crew chief for Jason Disalvo(2012), Data/electronics coach for Dane Westby(2013), Jake Zemke(2014), Joe Roberts(2014), Benny Solis(2014) In 2014 I pulled double duty and worked both AMA and WSBK (it was a lot of traveling) In WSBK I was Aaron Yates Data engineer. In 2015 I will be on the EBR team again as Nicolo Canepa's Data Engineer. The EBR team uses Marelli ECU engine controls and riders aids. Keeping up with Motec and Marelli keeps me on my toes.... All this on top of trying to keep up with the machining work at Fox Performance. I have recently hired someone to take some of the load off. Announcement coming soon on this. Thanks to my loyal customers for keeping me busy all the time. Have a good 2015!! UPDATE: 2/23/12 Motec web site link<---click here Fox Performance Engines is dealer for MoTeC products for the Professional Racer or the Club racer. The MoTeC CDL3 dash data logger is a affordable and high quality data acquisition system that will open new doors to the way you've thought about riding if you've never used data analysis for your racing. The MoTeC i2 analysis software is a tool every racer should have in their toolbox. When you're at pit wall during a 30 min session you don't have time to be fumbling around with shoddy analysis software, i2 from motec does what it's supposed to, it works when you need it to.



UPDATE: 2/15/11 SUPERBIKE FAMILY Docu/Drama series airing on HD theater: If you haven't gotten enough of me already over the years, you can now see a little more on a 10 episode series detailing the trials of AMA superbike racing with Pegram Racing, that will air on HD Theater. The shows will cover our entire last season of 2010, I came into the show a little late, right at the daytona race. For the entire race season we had a camera crew follow us around and film just about everything that happens during an AMA Superbike season with Professional Rider Larry Pegram and his crew. It was hard keeping this a secret all season, but I hope that everyone enjoys it as much as I did, and can can experience a small piece of the AMA paddock and day to day trials of it. Please tell as many people as possible to set their DVR's and watch. It helps out racing and promotes AMA and it's sponsors. Hopefully it will help grow our sport. And get outsiders familiarized with motorcycle roadracing. It shows on HD theater on these dates: Saturday feb 26th: 11am (episode 1) Saturday feb 26th: 11:30am (episode 2) Saturday March 5th: 11am (episode 3) Saturday March 5th: 11:30am (episode 4) Saturday March 12th: 11am (episode 5) Saturday March 12th: 11:30am (episode 6) trailer link: SUPERBIKE FAMILY TRAILER link<---click here more shows to come...... possibly season 2 in 2011... UPDATE: 10/26/10 I have been very busy lately, this entire summer I spent working on the Pegram racing team going to all the AMA superbike races with Larry Pegram. I will update with photos here shortly. Also below is a YouTube link to some short videos I have been making regarding machining work that I do here and give you an idea of what's good and not good etc... Fox's Machining videos<---click here
Sorry for the Brief update, but I have been on the rev limiter for several months and getting on and writing web pages for my site is low on the priority list. Thanks for stopping by. We perform full cylinder head reconditioning of the seats, guides, and valves. If you have a 2 valve and its got some miles on it chances are it needs the valve guides replaced, we use an aftermarket guide that generally has twice the life of the stock ducati guides. When we fit new guides they are Honed to the precise clearance for your valves, if someone's using a reamer to size your guides you won't get the right fit, as reamers are not a precise as a honing operation. A precisely clearanced valve guide will allow longer life and a straigther running valve in the guide and better sealing valve because it's fitment is better. 4v motors are the same scenario, we run an aftermarket guide and it's precisely fit. New guides along with a good valve seat job on a accurate seat and guide machine will make for the best sealing valves. If your shop is using hand tools to do valve jobs your not getting a precise sealing surface on the valve seat. Check out the "valve job" page for a sample of the equipment we use and the level of work we perform. UPDATE: 11/11/09
Congratulations to Larry Pegram and Ducati for a awesome season!!!! Back in August at the Topeka Kansas round Larry won both AMA Superbike races again with a Fox Performance Engines prepared crankshaft. He then went on to finish 4th overall in the AMA season championship points. Again Congratultions! After this season we have forged a very good relationship with Pegram racing and feel that we have confirmed that we are doing some of the best crankshaft work in the country. Larry had an awesome season without any problems along with setting a very very fast speed at Daytona testing of 199.9mph. We are very much looking forward to next season to see what it holds. Things are going to be quite good for Ducati, Pegram Racing and Fox Performance in 2010!!!

UPDATE: Laguna MOTOGP

I traveled out the MotoGp this season to see the high tech equipment that's run in GP. Unfortunately my camera didn't survive a getting dropped out of my back pocket on a loaned Ducati 1098 at 75mph on the highway around Monterey. :( So I have very few pictures of the event. On the brighter side, I got to spend alot of time with Larry and watch his crew get down to business for the AMA races.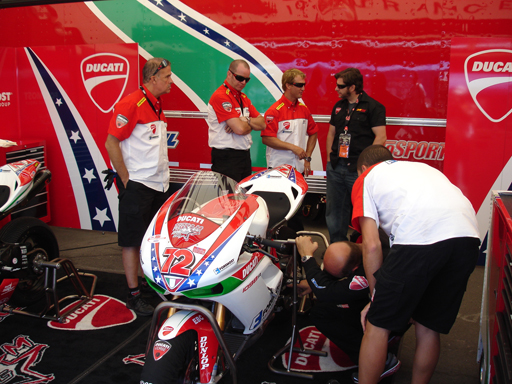 Larry, Dave, his crew and me.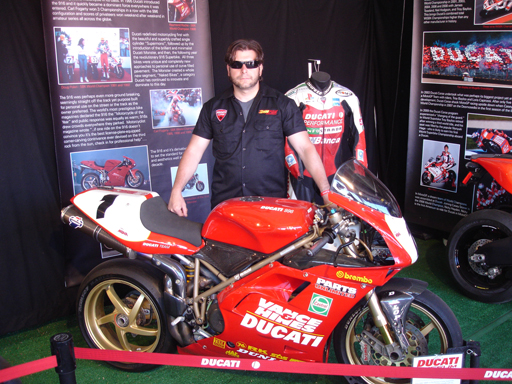 This bike was on display on Ducati islands museum.....I love this Bike....My second favorite. My Favorite of all time - 2002 998RS I had a really good time out in california this week I spent some extra time out there stopping by all the Ducati dealers and performance shops up and down the coast meeting the people face to face I do crankshaft and headwork for. I also spent some time in Hollywood as well at the Griffith observatory, if you've never been to the observatory, I highly reccomend it. The night I was there we were able to see the planet Saturn through their monstrous telescope. UPDATE: 6/7/09
Larry Pegram and the Foremost Ducati 1098 WINS Elkhart Lake Superbike race with a Fox Performance Engines Crankshaft Prepared by Ben Fox. I finally got to meet Larry in person at the World Superbike Race at Miller Motorsports in Utah. He's a great guy and been working pretty hard, so I could tell that a win was inevitable for him. There's more to come, I gurantee it.
Pegram Racing Press Release on Elkhart win.....!!!<---click here Congratulations Larry!!!!
UPDATE: 5/1/09
Larry Pegram to Flat track ducati's with crankshafts prepared by Ben Fox at Fox Performance<---click here
Some crankshafts showed up at my shop from Larry that were from Ducati Sport's 1000cc....I was like WTF Larry you can't use these in the 1098R for AMA superbike, he laughed and said they were building Flattrackers for some dirt racing....LOL I'll get em back to you as fast as I can.
Daytona Update: 3/7/09
Larry Pegram finished 4th in American Superbike with a crankshaft prepared by Ben Fox of Fox Performance Engines. Larry reported that he had traction control issues....and "still" finished 4th... :O ....at Daytona!.... and this just the first race of the season and he also set a fast MPH of 199.9 during practice.
I can't wait for Larry and Ducati's next race at Fontana, this is going to be Ducati's year in superbike now that the playing field has been leveled a little more between bikes and manufactures with the new rules.
Larry called me up before the first Daytona tire tests in December and asked if I could get a crank ready for his 1098R. At the test he set the second fastest lap time, he was happy enough with the results that he wanted me to do the rest of his cranks for all the 1098R engines he'd be racing this season. After preparing a few more cranks for him he then went to the Fontana test and again set the second fastest time.
I've been a Pegram fan for years, along with old ducati posters of him in my shop from years ago, I even have a few posters from his Yoshimura days.
I'm hoping this is a kickass season for Larry and Ducati both!
I've added some new equipment to my shop recently, it is a new Rottler SG7 valve seat and guide machine that I can use to perform valve seat cutting, valve seat repair and installation, and valve guide repair and installation. Check out the "valvejob" page to see the equipment and its capabilitys.
Crankshaft balancing hasn't changed, were still using the best crankshaft balancing equipment for the job and providing some of the best crankwork you'll find!
Larry Pegram went 199.9mph with one of our cranks this should speak volumes to the quality and accuracy of the crankwork I do. I've been doing ducati cranks since 1999 and have done more than a "just a few" ducati cranks, to say "I know them well" is an understatement at best. There's other places you could have your crank balanced but is the person doing the work an actual ducati racer/rider/enthusist? I Personally do every crank myself and I wouldn't give out anything that I wouldn't race on or ride on the street in my own engines.
We've added a few new Ducati shops to our clientele that we do crankwork for, most recently a big name shop in california sent us a crank to see how we'd do for them. I can tell you this much, when the service manager received the crank back from me after the SPS treatment and mirror polishing his exact quote on the phone was "wow!"!

2008 was my best year for racing in the MRA, but the time has come for me to slow down, I'm not retiring fully but my days of burning circles on a track between the green and checkered are going to be alot less. I've been very fortunate over the last 12 years of racing.